Masters of Sex *Review*
Masters of Sex, Michael Sheen and Lizzy Caplan are the real life pioneers of the science of human sexuality, They started out in a teaching hospital and after doing research they ended up on the cover of Time magazine. She is a single working mother and he is a genius scientist. The show is set in 1957 and continues the sex studies conducted for over two decades. The series shows the ways that human touch becomes an emotion with skin touching skin.
The main characters of the series are Michael Sheen and Lizzy Caplan. They play the roles of William Masters and Virginia Johnson. He is the doctor and she is the secretary that turns assistant in the projects to understand sex and why people act the way they do.
Masters of Sex is a one hour drama series on Showtime.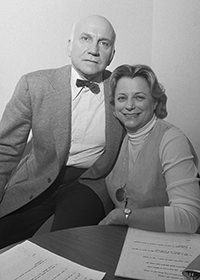 The real William Masters and Virginia Johnson (1976).
Photograph: Bettmann/Corbis
The series is based on a book

Masters of Sex


Starring: Michael Sheen, Lizzy Caplan, Nicholas D'Agosto, Caitlin Fitzgerald
Airs every Sunday on Showtime (10 p.m. EST)
Find out more about Masters of Sex