Minecraft is a great way to learn math! #education


I have 5 kids and they are all Minecraft fans. They all have their own worlds and they play together and alone. When I saw the opportunity to review Minecraft Units I knew I had to jump on it right away. My oldest 2 already know their way around area and angles pretty well but Tierney is just now really getting into detailed learning of all that stuff. I figured a little help from something she is familiar with would help her out a little, especially when it comes to remembering this stuff after the year is done. All the kids, except the youngest, are homeschooled but the 3 middle kids are in Connections Academy so they do have regular school lessons to complete. For this review I had each of the kids start to work on each of the units. I am going to let them do Perimeter and Geometry at their own pace and then each will have a notebook for the writing lessons and will be continuing the writing after this review is posted.

The Minecraft Units comes with 3 units: Perimeter, Geometry, and WriteCraft which full of writing prompts. I think if you asked any of the kids what their least favorite subject was they would all say writing and all have the same favorite of math. Hopefully this will help them get more interested in writing.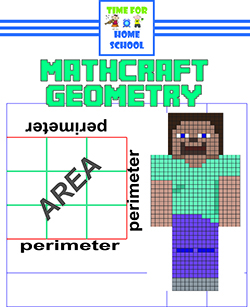 A little sneak peak into Minecraft Units.
When I downloaded the units, Garrett was the first to try them out. He is 6 and in 1st grade. He is probably into Minecraft more than any of the others at this point so he was excited when he saw the Creeper. The Perimeter was fairly easy for him to complete while we were doing it but he was not able to remember which was which after the units. Honestly I did not expect him to remember but he was able to count the areas and perimeters when asked. He did much better with the Geometry unit. He was able to identify different shapes in the game and in the real world. He was able to point out angles in our house and knew the difference between the angles even after the unit was done. As for the Writing, I had him grab a notebook and it is just for Minecraft writing now. I gave him the first prompt and he was able to write a short story about what he liked about the game and why. He is not too much of a writer so I am glad he was able to do this and it was a prompt he could easily relate to.
Tierney is 11 and in 5th grade and Ben is 12 in 7th grade. Both of them have made it through all of Area and Perimeter and had no issues. They both said it was easy to understand and they were able to complete the work pretty much on their own. They both said that it was easy to remember because it was something that they play and are interested in. Both of them did some of the work in the Geometry unit. Ben has already learned about angles, lines, etc so it was easier for him. As I said earlier, Tierney is just now really getting into angles and measuring them so it was touch and go with her. She actually just completed a lesson on Connections in lines and rays so it is still fresh for her. They both said the instructions were clear and easy to understand. On to the Final unit, Writing. I gave them each the same prompt as Garrett and they both wrote about what they liked about the game and why. Tierney is more of a writer than Ben so she had more detail and more to say.
Overall, I think the 3 of them liked Minecraft Units. Another thing I like is that I can print these out and they can keep them with their school stuff for reference. Garrett had me print a few of the pages to hang on his wall.
You can download Minecraft Units and other educational products, up to 100% off on Educents .
Are your kids into Minecraft?
Disclosure: I received a copy of the unit(s) for review. However, any opinions and thoughts are honest and my own. This post does contain affiliate links, which means that I may receive a commission if you click a link and make an actual purchase.